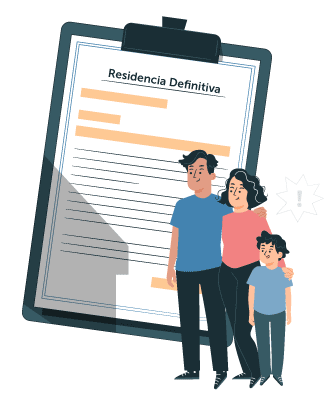 What is a Residencia Definitiva permit?
Residencia Definitiva is the permit granted by the Servicio Nacional de Migraciones (SERMIG) to foreigners who have a valid Residencia Temporal, to reside indefinitely and engage in any lawful activity in the country.
In which cases can I apply for Residencia Definitiva?
Residencia Temporal holders may apply for Residencia Definitiva, only in the cases accepted by the migration subcategory of which they are holders. The application must be made before the deadline to request the extension of the residence permit, that is to say, no more than 90 days prior to the due date.
Where can I apply for Residencia Definitiva permit?
Applications related to Residencia Definitiva are made through SERMIG's Portal de Trámites Digitales, by logging in with ClaveÚnica or with the account created by the applicant for such purposes, meeting all the requirements.
Once logged in you must look for "Solicitud de Residencia Definitiva".
How do I apply for Residencia Definitiva?
Check the step-by-step instructions in the following guide:
As an applicant, you must upload the general documentation plus the specific documentation for your application, as shown below:
In order to apply for Residencia Definitiva, a certificate of criminal and/or judicial record from the country of origin is required for all nationalities. This document is valid for no more than 90 days from the date of issuance.
Any document issued abroad or by the respective consular representation in Chile must be apostilled or duly legalized, as stipulated in Articles No. 345 and 345 bis of the Código de Procedimiento Civil.
In addition, any document in a language other than Spanish or English must be translated.
How should I pay the fees for my Residencia Definitiva?
When your application is reviewed, you will receive an email notification to pay fees, if applicable. Please review the instructions in the following guide:
According to Law No. 21325 of Migración y Extranjería, the entry into force of the decree creating the new migration subcategories will not affect the acquired rights of those who were holders of Residencia Temporal at that date.
If a change of migration subcategory implies greater benefits for the holders of the Residencia Temporal previously granted, you will be able to opt for such category if you comply with the requirements established for the same.
Therefore, if before the entry into force of the new migration subcategories, you were a holder of a residence or applicant for Residencia Temporal and you were granted such benefit assimilated to the new subcategories, the terms of the old legislation to apply for Residencia Definitiva will be respected (one year for Visa Temporal, two years for Visa Sujeta a Contrato and two years for Visa de Estudiante).
This includes persons who have Residencial Temporal for a one-year term as a result of the 2021 Regularization.